Home
|
Encylopaedia
|
Composers
| BYRD
William BYRD (1543-1623)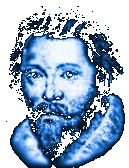 William Byrd was an English composer, one of the greatest of the later polyphonists, whose varied music included sacred and secular choral music and instrumental music. His contemporaries referred to him as "The father of British Music". It has been suggested that he was born in Lincoln in 1537. He excelled in all instrumental music, was a brilliant madrigalist and was a major pioneer of keyboard composition, both solo and ensemble. Many of the keyboard pieces were intended for either harpsichord, virginals, spinet or organ and were usually dance movements. Many of his keyboard pieces can be found in the music manuscript "My Ladye Nevells Booke" which was devoted exclusively to Byrd and written by the singer and composer John Baldwin in 1591. Other Byrd keyboard pieces were also published in "Parthenia" (1612-1613), the first anthology of keyboard music printed in England.
In his motets and masses, Byrd showed himself the equal of his French and Italian contemporaries, such as Palestrina and Lassus as a contrapunist. His solo songs and songs for the stage were also of exceptionally high standards of which he wrote forty seven. He was a pupil of Tallis and in 1575 both he and Tallis published a collection of motets "Cantiones, quae ab argumento sacrae vocantur", dedicated to Queen Elizabeth I. He issued no volumes of madrigals. Among his miscellaneous compositions, the "Psalmes, Sonets, and Songs of Sadness" (vol 1: 1588; vol 2: 1611) for vocal ensemble are of great interest. They were originally songs with instrumental accompaniment. His "Songs of sundrie Natures" was published in 1589. Other work includes "Mass for four voices", "The Great Service" and "Sing Joyfully".
Little is known about his life, apart from the fact that he was involved in various lawsuits over property and he was a Roman Catholic. His father may have been Thomas Byrd, a gentleman of the Royal Chapel and a colleague of Thomas Tallis. He was appointed organist of Lincoln Cathedral when he was 19 or 20 and remained there for 10 years. In 1570 he joined the Chapel Royal in London as a singer and soon afterwards became its organist. He shared this position for a while with Tallis. They both worked closely together for a while as they were both granted a royal monopoly on music printing in England in 1575.
He seems to have been protected at the time of anti-papism by his fame as a composer and having friends in high places (the Earl of Worcester and Lord Lumley, both Catholics, were his patrons). Queen Elizabeth seemed to tolerate his catholic tendencies and he was able to write music for both churches. He wrote 3 sublime Latin masses and services for the Anglican church. Most of his compositions were first played at friends houses. Such examples are "Ave Verum corpus", which was published in his first volume of his motet collection "Gradualia" (1605), "Haec dies", "Ne irascaris" and "Laudibus in sanctis". He also wrote anthems accompanied by the organ or other instruments with solo vocal parts.
There is no doubt however, that his Catholicism in a Protestant country hindered his activity as a composer of liturgical music as he wrote only three masses to the hundreds of his contemporaries. He continued to write for the church however and was never persecuted. He remained in court service all of his life until his death at Stondon Massey on the 4th July 1623.
Essential Albums:
Click on album cover to buy.