Home
|
Encylopaedia
|
Composers
| DUFAY
Guillaume DUFAY (1400-1474)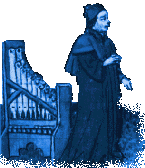 Dufay was a Franco-Flemish composer and singer born in Hainault in c.1400. He became a choir boy at Cambrai Cathedral by the age of 8 and went on to become Chorister there later on in life. He was known as one of the composers of the "Burgundian School". There are indications that he spent some time in Paris but he spent his time mainly in Italy, as by 1420 he had moved to P?saro to join the Malatesta Court for the Malatesta family. His reputation grew whilst in Italy and he was described as being "the greatest ornament of our age". He also spent time in Rimini, Bologna and Savoy. In 1428 he moved to Rome to serve the choir of the Papal Chapel until 1437. He returned back to Cambrai in 1440 and briefly served under the Duke of Savoy from 1452 to 1458. He also became canon of the church and was in service of Duke of Burgundy after 1442.
Lime Machaut, Dufay was a priest and a large proportion of his income originated from honorary church appointments. Much of his musical output is for the church. He developed freedom and embellishment in medieval music, especially in the melodic solo treble voice, while the tenor line was kept close to the Gregorian original. There are over 200 surviving works including a number of complete polyphonic settings of the Mass ordinary, individual mass movements and other liturgical settings. He helped to establish the mass as the principal vehicle of elaborate polyphony. His masses include the "L'Homme arm?" and "Se la face ay pale".
Other works include motets and various secular songs, mainly with French texts. There are approximately 80 surviving songs today. They vary widely but all show the new flexible attitude to the standard Medieval song forms, for example the rondeau and the ballade. His ballades include "Resveill?s Vous" (1423) which he wrote for the marriage of Carlo Malatesta to a niece of the Pope. His rondeaus include "Adieu ces bons vins de Lannoys" (1426) and "Le Moys de May".
Dufay's music appealed to many people as they were quite melodic in character. He was a noted teacher and his pupils include Ockeghem. He died at Cambrai in 1474. It was known from his will that he intended his "Ave regina caelorum" motet to be sung to him at his death bed. He also paid for three sung masses, thirteen low masses and an annual ceremony to be held in his memory.
Essential Albums:
Click on album cover to buy.