Home
|
Encylopaedia
|
Composers
| GIBBONS
Orlando GIBBONS (1583-1625)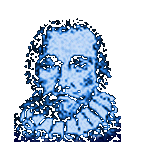 Orlando Gibbons was born in Oxford, England in 1583. He was born into a musical family where his father played in the city band and his brother was master of the choristers at King's college, Cambridge. Orlando became a chorister there himself and later studied as an undergraduate. He went on to succeed William Byrd as one of the most outstanding English composers of church music during the late 16th and early 17th century. His repertoire consisted of church anthems and keyboard compositions.
In 1603 Orlando joined the Chapel Royal in London and became the organist there in 1605, a position he held until his death. In 1619 he was appointed as "one of his Majesty's musicians" and in April 1625 he played as organist of Westminster Abbey at the funeral of King James I. He died from an apoplectic fit before he was due to have met King Charles I's new bride (Queen Henrietta Maria). He was buried in Canterbury Cathedral.
Essential Albums:
Click on album cover to buy.